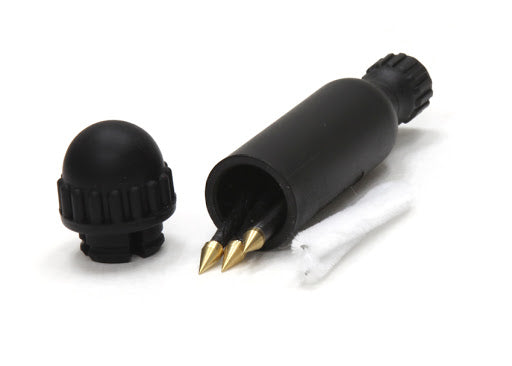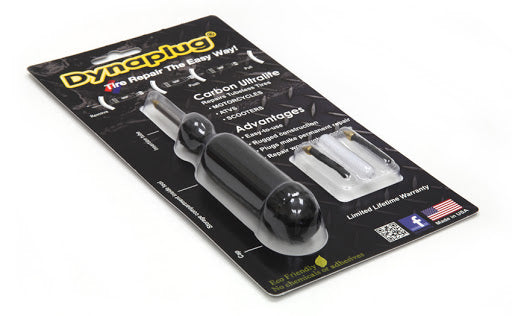 Dynaplug Carbon Ultralite Tubeless Repair Tool
Dynaplug Carbon Ultralite tubeless repair tool is the secret to tube free cycling, giving you full confidence with your tubeless tyres.
Here at Handsling we have tested numerous systems and Dynaplug is the simply the best way to repair a tubeless tyre in the event that sealant cannot fix a puncture, which usually means a cut to the tyre that is too large for the sealant to seal on the fly.
Just in case, always rotate your wheel so that the puncture is at the bottom, in order to pool the sealant where it is needed, and re-inflate your tyre first of all; sealant always works better with increased air pressure. If the sealant cannot fix it, it is time for a Dynaplug.
The repair process is simple:
1) Clean the area and remove any obstructions,
2) Push the insertion tube of the Dynaplug tool straight into the hole
3) Extract the Dynaplug tool from the hole, leaving the black rubber repair plug behind to seal the hole in the tyre. It is perfectly normal that the rubber plug will protrude slightly.
If the cut is large and a single plug is not enough to seal it, just fold the tail of the first plug flat against the tyre with your finger, and then insert another next to it 
The repair plug is made of a unique viscoelastic impregnated rubber that is designed to work with the sealant in your tyre and to bond instantly with the tyre itself, creating a permanent repair.
The plug's non-abrasive brass tip will not scratch your rim or puncture your rim tape. There is no need to remove the tyre, no messy glues or solvents, just plug and ride.
A plug's tail can be snipped off later though it is recommended to leave a few mm of material protruding.
The Ultralite is ideal for a jersey pocket at 127 mm long and weighing just 34 grams. The hollow grip handle allows you to store pre-loaded plugs.
The kit includes:
1) durable glass-filled nylon tool
2) 4 x soft nose plugs
3) 1 stainless steel insertion tube
4) a pipe cleaner to help prep the tube for reloading 
Dynaplug uses patented technology and has a limited lifetime warranty under normal usage.
30-day Return Policy
Return the item within 30 days in an unused condition for a full refund.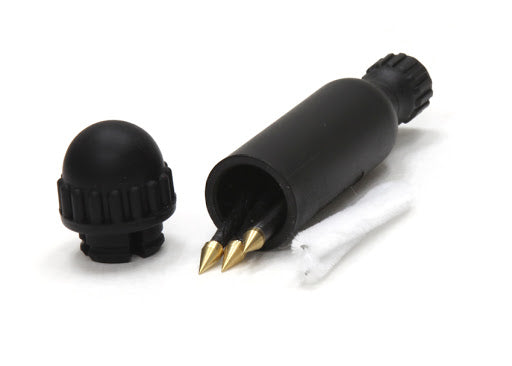 Need a helping hand?
For advice on products and services or general enquiries, please contact us, and we will be more than happy to help. We've provided our contact information here.
To help you locate the support you need fast, We have listed our most frequently asked questions at our Help Centre.
Yes, we ship all over the world. Shipping costs will apply, and will be automatically added at checkout. Find out more here
How long will it take to get my orders?
Do you offer Cycle to Work schemes?

Yes we do. Handsling bikes are available via Green Commute Initiative, Cyclescheme, Cycle Solutions and My Benefit World.