Handsling A1R0evo frame – Team Racing Blue and Orange
The Handsling A1R0evo is the ultimate road frame. Stiff, robust, lightweight, and aero, with room for 32mm tyres, it is a real do-it-all road bike - and it does it all really fast.
Handsling A1R0evo in limited edition Handsling Racing Blue and Orange, the official colourway of the Handsling Racing Team. 

 

The Handsling A1R0evo is our ultimate road frame. Stiff, robust, lightweight, aero and with room for 32mm tyres, it is a real do-it-all road bike - and it does it all really fast!

the first Handsling frame designed 100% in-house

engineered by one of the best in the business

manufactured using moulds owned exclusively by Handsling

UCI approved

frame profile optimised for aerodynamics and stiffness

The A1R0evo will do everything well, from storming tight city centre crits to conquering steep mountain passes to floating over Belgian cobbles.

Please note: The Integrated Bars/stem shown in the photo are NOT included in the price.

Features:


Manufacturing

Manufactured using Toray T800 carbon, one of the strongest, toughest carbons on the market

Internal EPS internal moulds used for increased carbon compaction, eliminating small imperfections to make the frame tougher, lighter, and stiffer 

Rigorous, destructive testing procedure to surpass ISO standards

Geometry

Race geometry is classic Handsling that has been proven in national championships, tight city centre criteriums, cobbled Belgian classics, fast road races and mountainous sportives

 Aerodynamic

Truncated, D-shaped aerodynamic tube profiles

Frame is aero in a wide variety of conditions, no matter the wind direction

Integrated 'hidden cable' handlebars for clean look and aerodynamic efficiency

Stiffness

Downtube flairs out to the full width of the BB86 bottom bracket

Hourglass head tube is massively stiff and oversized, yet still aero

Fork and chainstays are asymmetric in design to withstand twisting forces

12mm thru axles further enhance frame and wheel stiffness

Comfort

Frame accepts 32mm tyres, increasing comfort levels and opening up all sorts of possibilities

Larger tyres enhance comfort so frame can be built with more lateral stiffness

Unique aero seattube shape which thins to a standard diameter seatpost

Seatpost is an aero, truncated D-shape and utilises a clever, non-stick seat clamp expander bolt hidden under the top tube

Robust

Frame is designed for constant use and to take knocks

Weight 920g matte UD carbon frame and 350g uncut fork (size 52cm)

The A1R0evo is available in limited edition colours and can be built up with a variety of groupsets and finishing kits.

Frameset includes:

Integrated headset bearings

Aero, interlocking headset spacers

Dedicated aero seatpost

Handsling superlight thru axles 142x12mm and 100x12mm

Please note: The Integrated Bars/stem shown in the photo are NOT included in the price.

 

Watch the video guide to the A1R0evo 

See more about the manufacture, testing and design of Handsling frames, inc test results for the A1R0evo

Don't settle for a one-size-fits-all bike. Handsling offers a tailored bike fitting service to our customers, ensuring we find the right fit of frame, spacers, stem and bars.
Reviews
Great quality frameset which is outstanding to ride. Speed & comfort rarely come together on a road bike but my A1R0evo has it mastered.
The bike (itself) is fast, it climbs, its stable, it handles brilliantly, inspires confidence at speed and is comfortable; for an aero bike anyway.
The bike is super smooth but also has really sharp handling and just feels fast.
Stiff, nimble and really quick, yet more than comfortable…..that frame is seriously top! All the set up was spot on; using 28's tyres perfect for the gnarly Yorkshire tarmac,
I was free wheeling when others where pedalling lol it just cut through the air! Roll on next event!
The bike - A1RO Evo Ultegra Di2 is a dream! It's fast without being twitchy, comfortable on long rides and climbs brilliantly too. Puts a smile on my face every time I ride it!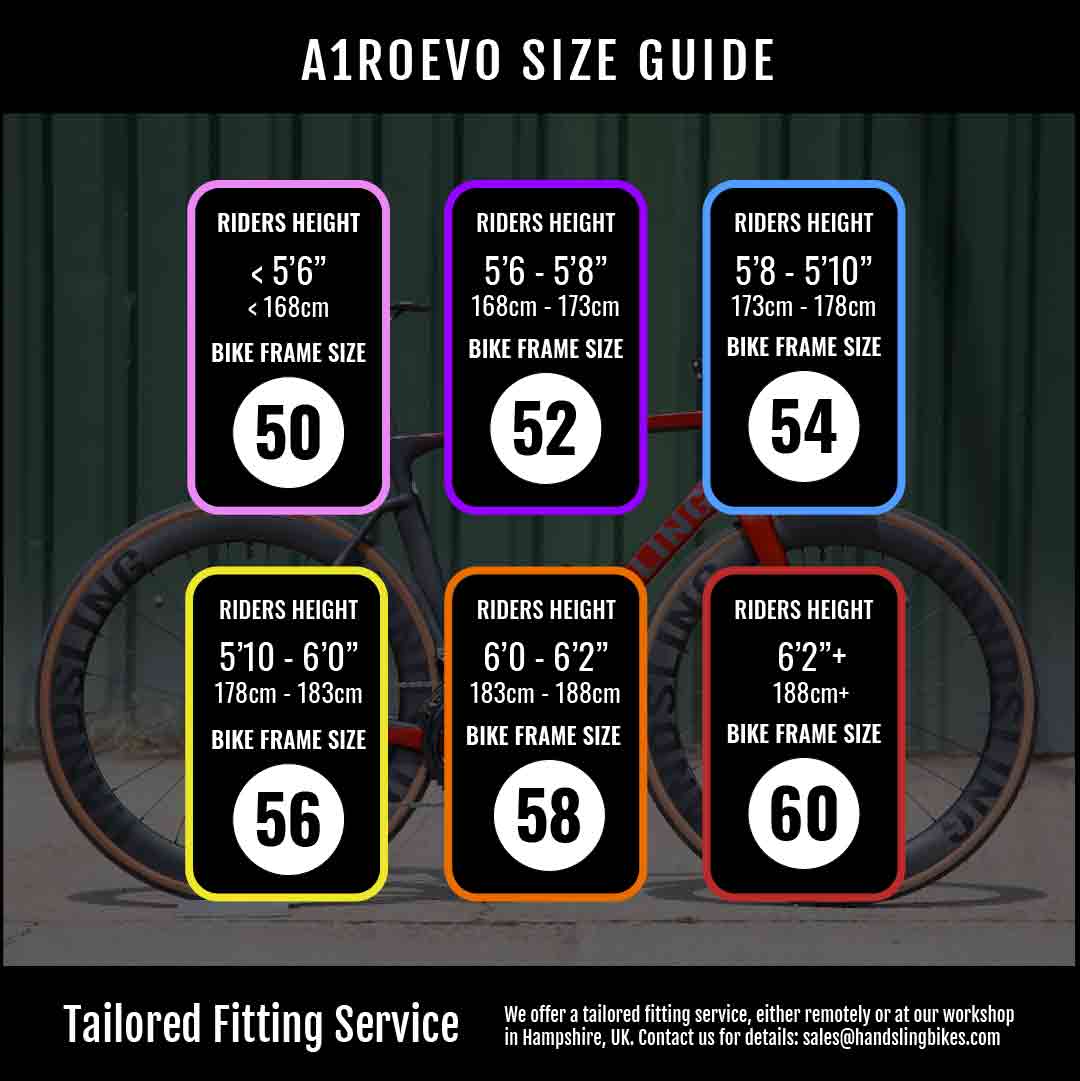 Sizing Guide
Finding the right size bike can be a bit overwhelming, but don't worry - we're here to help. The right size bike will ensure a comfortable and safe ride, so it's important to take some time to find the perfect fit.
Tailored Bike Fitting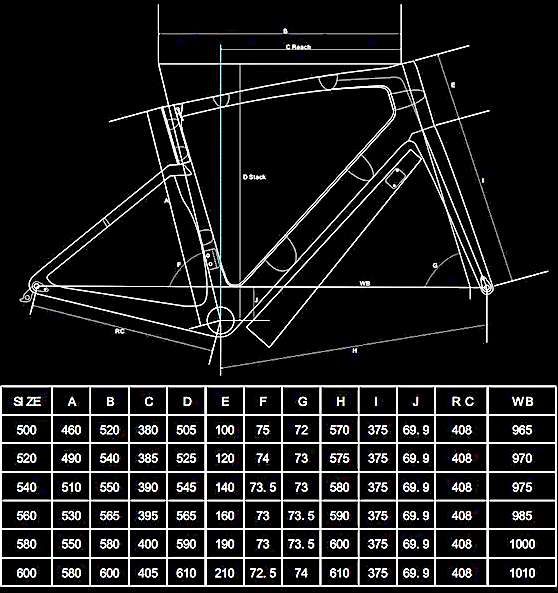 Dimensions
Carbon frames are manufactured in the Far East using moulds that are owned by Handsling. This provides full control over the production process and makes each and every model exclusive to the brand.
Learn more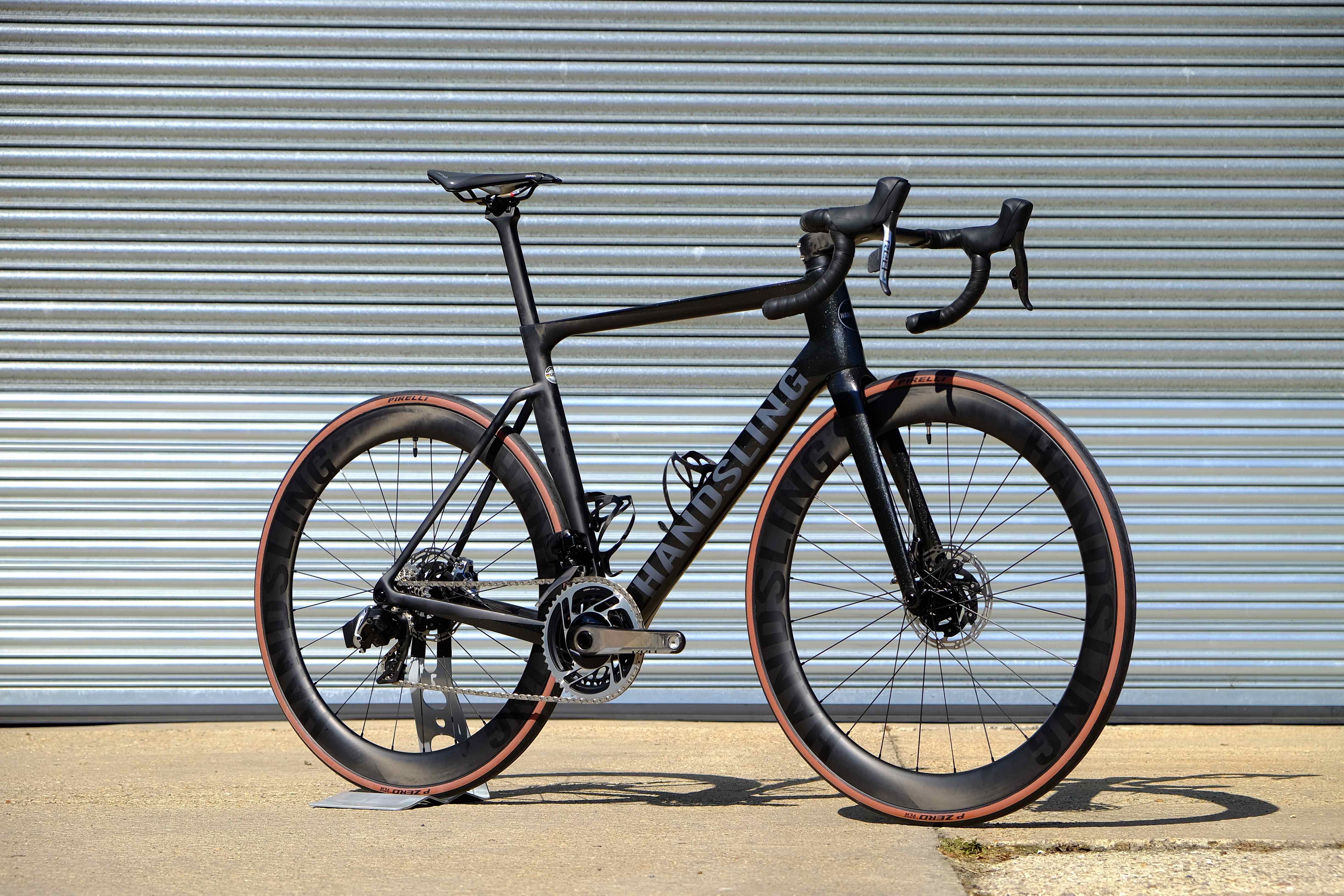 Book a test ride?
We have a range of test bikes available. Book a test ride today at our UK workshop, or schedule a video call with our sales team.
Book now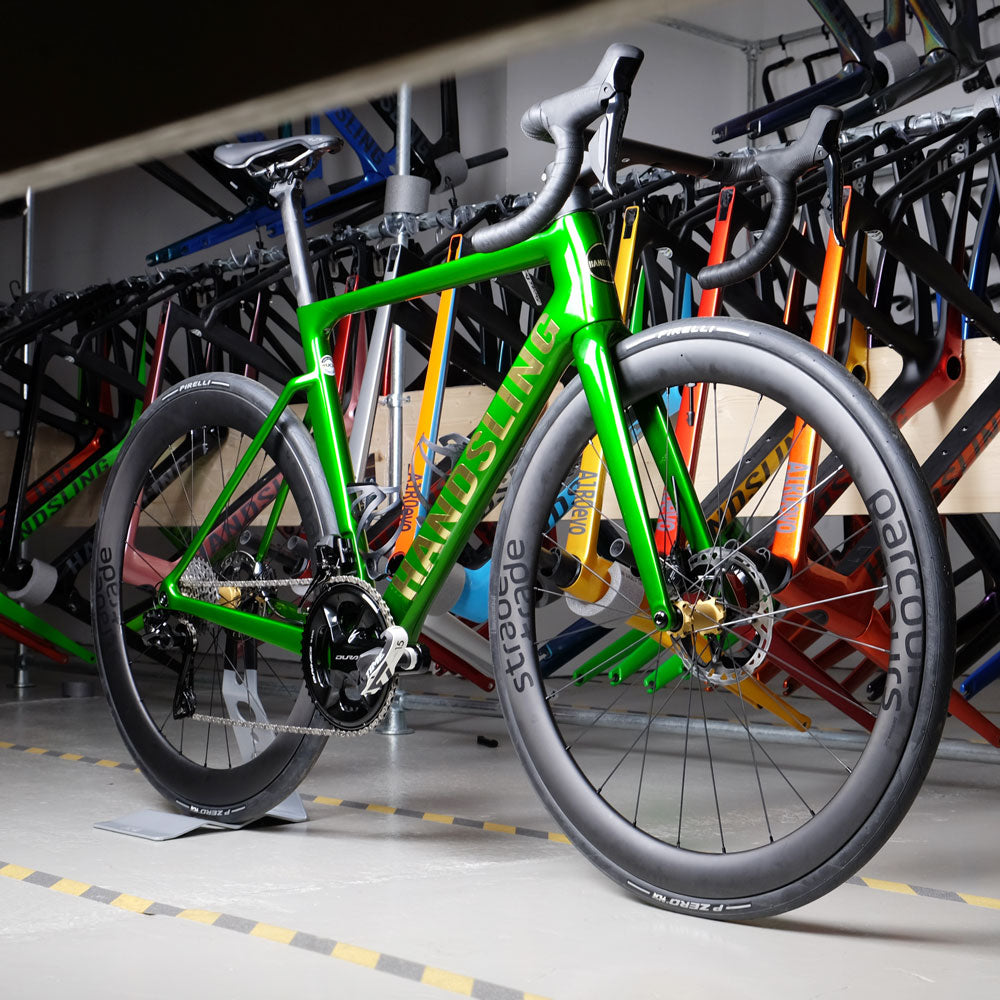 BUILT JUST FOR YOU
Every rider deserves a bike tailored to their unique riding style and performance goals. We offer personalised performance service for our high-performance carbon bikes.
Personalised Performance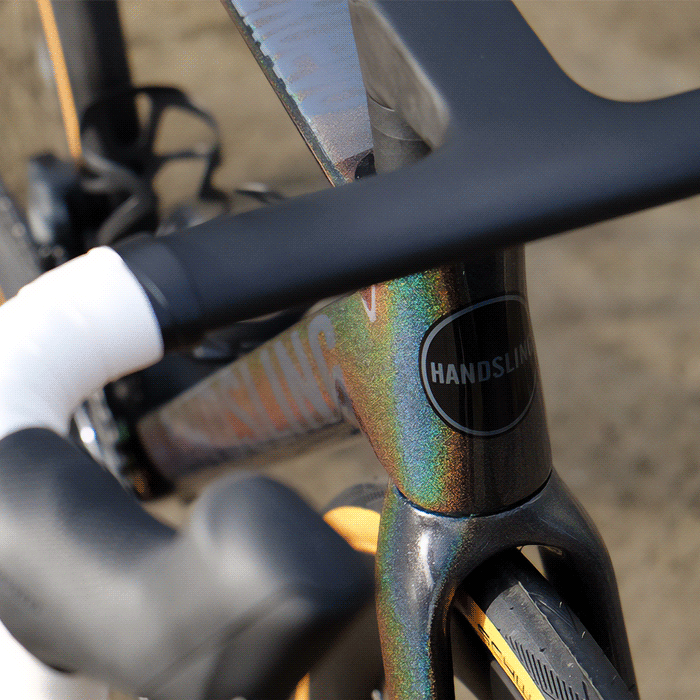 Bike Buying Consultation
From sizing and frame colour, to wheels and components, your Handsling bike is custom fit to your personal requirements.
Discover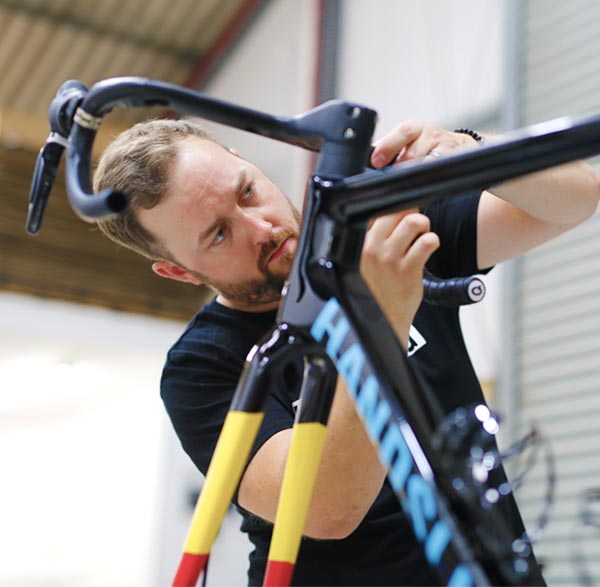 Tailored Bike Fitting
A properly fitting bike is essential for achieving peak performance and comfort on the road, track or trail. That's why we offer tailored bike fitting for our high-performance carbon bikes.
Discover
Need a helping hand?
For advice on products and services or general enquiries, please contact us, and we will be more than happy to help. We've provided our contact information here.
To help you locate the support you need fast, We have listed our most frequently asked questions at our Help Centre.
Yes, we ship all over the world. Shipping costs will apply, and will be automatically added at checkout. Find out more here
How long will it take to get my orders?
Do you offer Cycle to Work schemes?

Yes we do. Handsling bikes are available via Green Commute Initiative, Cyclescheme, Cycle Solutions and My Benefit World.